Flower School
Calendar of Classes
The Faith Flowers School offers flower arranging classes led by experienced and talented designers. Special classes include Flowers 101, Church Flowers, Wedding Flowers, The Art of the Compote, Hand Tied Bouquets, Grocery Store Flowers, European Design, and more. There are hands-on workshops available for all experience levels. Enjoy fresh flowers and create your own arrangement or two to take home!
Faith Flowers is an award winning wedding and event design studio. Owner Laura Iarocci is a nationally recognized speaker and teacher on flower arranging. She is a certified floral designer with AIFD and a member of Chapple designers. Laura has chaired the Cathedral of St. Philip flower guild for 20 years and has authored a book on church flower design titled Faith Flowers. She is trained in European design and has studied with leading floral designers around the world.
Private classes and group classes available!
We will create a custom class for your group of friends, family, coworkers, clients or garden club. These workshops are great for bridal and baby showers, birthday parties or team building activities! Email us at [email protected] to learn more.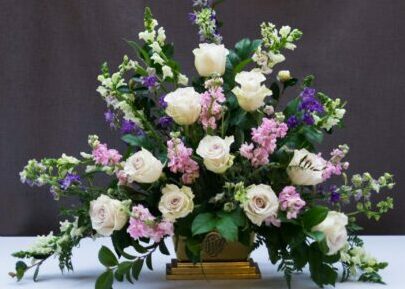 May 20, 10:00 am - 12:30 pm
This is the fundamental class for beginner church flower arrangers.  Learn how to select and care for flowers, and create a classic triangle floral design, that is the basis of classic church flower arrangements.  You will take home an arrangement that can be used for your next worship service. Our classes are filled with lots of tips and tricks for conditioning and selecting flowers and garden greens.
Laura Iarocci's book and church flower design, 'Faith Flowers', is a great companion to the techniques you will learn in class. Class participants can purchase a book at any time and receive a $20 discount.  Purchase through the 'Shop' tab on our website and use the code 'churchflowerbook' to receive your discount.  You will receive your book in class.
Please note this class will be held at the Faith Flowers studio.
We do not offer class refunds or transfers at this time. Faith Flowers reserves the right to cancel or reschedule a class due to low registration.
PRIVATE CLASSES ALWAYS AVAILABLE
– We will work with your schedule to find a date and time
– Choose from one of our favorite class topics or create a custom class, such as 'Designing Bridal Flowers'
– Great for individuals who want one on one instruction  
– Great for groups for any occasion, including bridal and baby showers, birthday parties, garden club continuing education and team building activities
– Pricing available upon request
Email us at [email protected] to learn more.